2021 Highlights
Facility Certifications
The HMS, along with all associated processes and procedures, conforms to industry-standard certification programs, including ISO 14001 and API RP 75. Individual Halliburton facilities and PSLs are externally certified to ISO 14001, based on business requirements. In 2021, 73 Halliburton facilities held ISO 14001 certifications, representing 17% of our active global properties.
Environmental Awareness Training
In 2021, we initiated a campaign to raise awareness of environmental compliance and stewardship. We provided our workforce with a training module focused on environmental compliance and reporting. The campaign aimed to ensure that all employees, regardless of their roles, understand their impacts on the environment and their stewardship responsibilities.
Environmental Incidents
The majority of reported environmental incidents are spills that occur at Halliburton facilities and field locations. In 2021, we had no significant environmental noncompliance spill incidents and no significant environmental fines.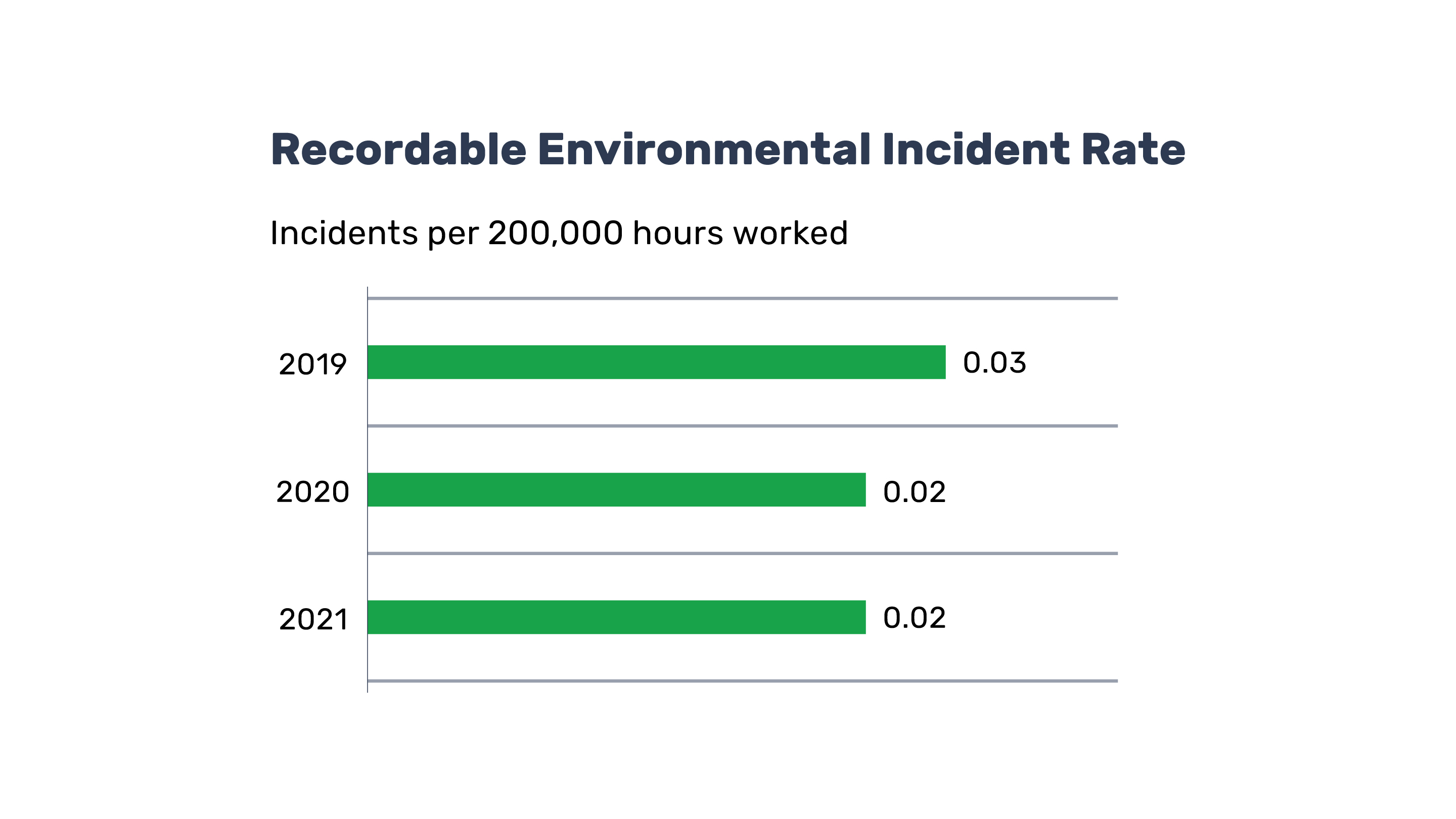 Chemical Stewardship
We responsibly manage the environmental risks posed by our chemical products and services over their lifecycle. To improve our chemical stewardship processes and systems, the Global Chemical Stewardship (GCS) team collaborated with internal users to launch a new workflow application, the Chemical Request Management System (ChRMS, pronounced as "charms"). 
The new system allows users to track the progress of requests for compliance purposes. It also helps us balance the protection of intellectual property with the rights of the chemical manufacturer. 
Together, in one centralized system and with incorporated global master data, these features deliver a higher level of compliance assurance and facilitate smoother workflows for our personnel. In addition, the integration includes our Safety Data Sheets (SDSs) with information about the safe use of chemicals. Our SDSs are available in 37 languages in more than 70 countries and 20 jurisdictions. 
We keep all information related to global chemical stewardship updated and available to users around the world. The development of ChRMS aligns with our Halliburton 4.0 approach to digitize the value chain and create internal efficiencies.
Water and Effluents
We work with our customers to reduce their water usage. Although customers purchase and control the water they use at hydraulic fracturing sites and at wellsites, we provide solutions to assist customers with water usage. 
Our reported water-usage data includes water used at Company-owned or Company-leased locations, except those locations that include water usage in the lease, and covers our facilities in the U.S. and Canada and most global facilities.
Many of our locations have implemented water-reduction and water-recycling projects, particularly those in water-stressed areas.
To read more about our water initiatives in the UK, Thailand, and Argentina, download the full report.
Waste Reduction
At Halliburton, we develop waste minimization and management plans to reduce the amount of waste generated at our offices, workshops, field camps, manufacturing facilities, and wellsites under our control.
Our waste-generation data covers all U.S. locations, all manufacturing locations, and any non-U.S. location that has a building footprint larger than two acres (8,092 m2) and that houses those activities identified as having the largest potential for waste generation.
As we look to 2022, we are in the process of standardizing and digitizing waste-reduction tools and resources across our facilities to identify waste-reduction opportunities and effectively execute on them.
To read more about our waste reduction initiatives in Argentina, UK, Africa, and Brunei, download the full report.
Biodiversity
Our commitment to environmentally sound and sustainable business practices includes minimizing disturbances to the land where we develop our offices, field camps, chemical facilities, and service centers. To support this commitment, we conduct proper environmental due diligence and permitting when establishing new facilities and ensure regulatory compliance through the life of each facility. Additionally, we recognize the inherent value in threatened lands and species, and we evaluate programs and methods to protect sensitive habitats around our locations.
Our employees took part in many biodiversity initiatives at our facilities around the world. We planted trees at many of our global sites, including our Coca Base in Ecuador, Añelo Field Camp in Argentina, Saihat facility in Saudi Arabia, Malaysia facilities, and the forests in Cabinda, Angola.